My initial thoughts on my living room were to use pale neutrals like creamy white and pale gray. My "centerpiece" is this sofa - my mother's Duncan Phyfe-style sofa:
When she had this reupholstered in the early 1970s, she had the excellent taste and foresight not to have it done in avocado green. It's an oyster white silk brocade with tiny pink petit point roses.
I love the tone on tone pales - I plan on using a lot of crystal and silver for accessories and I don't want the room to be "glacial" - you know...like Mr Freeze's lair.
Here, I like the use of the gold; I am hoping to use silver and pale blues/grays/violets to a similar effect.
This is probably the most "realistic" version of what I'd like to do. Again, the pale neutrals, but not icy. I would also definitely consider a painting over the mantel instead of a mirror.
This is a "I wish" photo. I wish I had room for shelving on either side of my fireplace, but I am not sure how I could accomplish that given the minimum shelf depth:
These last two photos are beautiful. I love certain shades of pink, but I am frankly scared to have a pink living room. My bedroom is going to be "White Dogwood" by Sherwin-Williams, so I have no qualms about rosy boudoirs, but I don't know if I can bring myself to put it out "in public". But...why not...it's just some paint, right? :)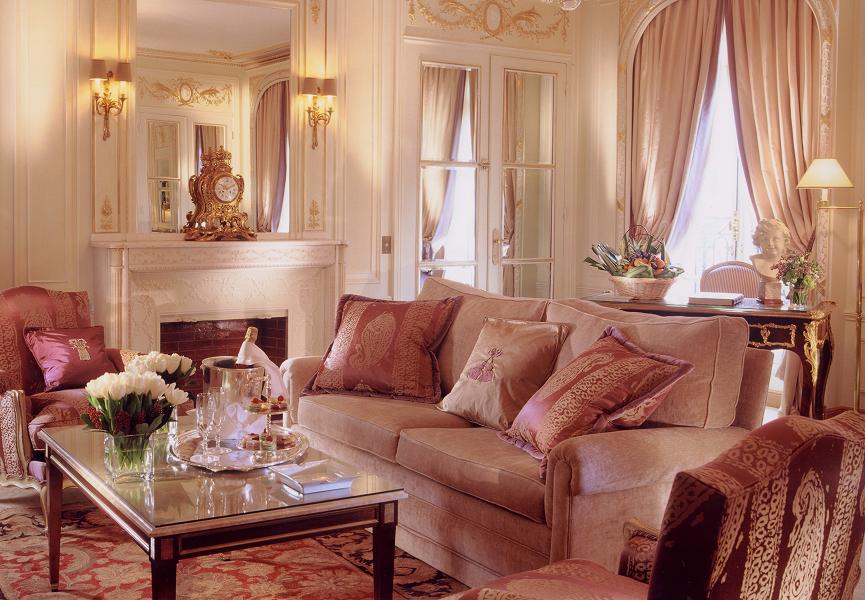 By the way - this last photo is of the Prestige Suite at the Plaza Athenee in Paris. Nothing like having champagne taste and a diet Pepsi budget! ;)
So - what do you think? Should I stay neutral, or think pink? I know what Kay Thompson would say!